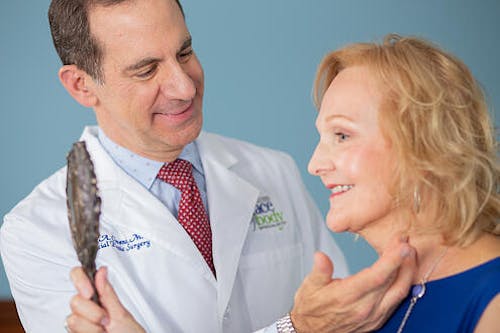 When you love the way you look, your self-confidence soars. You feel strong, healthy, and capable of anything.
Aging is inevitable. Over time you may have noticed that your skin begins to loosen, crows feet appear, fine forehead lines become creases, and your jawline softens into jowls. Beneath the chin, another chin, or vertical folds appear at the front of the neck.
Although the passage of time is inevitable, it doesn't have to mean you can't look and feel your best during each stage of your life, right? If you're looking for a way to address these issues and restore your confidence long-term, you may be a good candidate for a facelift.
Facelifts have long been considered the gold standard cosmetic treatment for reversing the most common signs of aging, and that is still true today. A properly-performed facelift corrects aging skin and creates a refreshed, youthful appearance, leaving you looking 10-15 years younger. Goodbye jowls!
Of course, there's a good chance you have a number of questions about everything from what you can expect and the recovery period to choosing the right surgeon and other important considerations. To help you learn more about the procedure, here are our expert answers to the most common facelift questions.
What Is a Facelift?
A facelift, also known as a rhytidectomy, is a facial plastic surgery procedure that addresses common signs of aging, such as deep wrinkles, nasolabial folds, jowls, and sagginess of the neck and skin. Facelifts remain an excellent option for men and women who want to improve facial definition, smooth fine lines and wrinkles, and take years off their appearance.
There are a few different facelift techniques, which vary, including:
Deep Plane Facelift
The deep plane facelift is the most sophisticated facelift procedure. It addresses areas of concern by tightening muscles, lifting tissue, and repositioning fat. The advantage to a deep plane facelift is that it provides the most natural-looking, longest-lasting result. Dr. Clevens is an expert deep plane facelift surgeon and he typically encompasses a cheek lift, or midface lift as part of his deep plane face and neck lift to ensure the best possible outcome,
SMAS Facelift
The superficial muscular aponeurotic system (SMAS) is a tissue layer deep within the skin. An SMAS facelift aims to tighten this tissue, counteracting signs of aging by removing fat and excess skin, as well as tightening facial muscles.
Skin-Only Facelift
The skin-only facelift is an outdated surgical procedure, but it is still performed by many doctors who are less experienced in facial surgery. A skin-only facelift results in a wind-blown and operated upon appearance, which is not desirable. Be certain you choose an experienced facial plastic surgeon so you get the natural results you want.
How Do I Know If I Need a Facelift?
Generally speaking, any healthy person with concerns about their cheek, midface, jowl, jawline, neck, and chin is likely a strong candidate—regardless of age. If that sounds like you, a board-certified specialist in facial plastic surgery can review your health history and medications to determine if you're a facelift candidate.
What Does a Facelift Include?
A facelift includes lifting the cheeks and midface, improving the jawline, and tightening the neck. There is a common misconception that facelifts include improving the eyes and brow area; however, what many don't realize is that addressing each of these areas requires a separate procedure that is often performed at the time of facelift and neck lift surgery.
If you're considering a facelift, meet with a specialist in facial plastic surgery for a full face assessment. During that time, they can explain the procedure in greater detail, so you can understand how a facelift might help you turn back the clock, and make you feel as young and vibrant as you do on the inside.
Can I Combine a Facelift With Other Procedures?
You can absolutely combine cosmetic procedures to achieve full facial rejuvenation, while reducing cost and enjoying a single recovery period. Facial cosmetic procedures most commonly combined with a facelift include:
Blepharoplasty (eyelid surgery)
Live fill (grafts harvested from a patient's living tissue)
Occasionally, a facelift is also combined with other procedures, such as rhinoplasty and otoplasty. During your consultation, your facial plastic surgery specialist can help you decide what combination of procedures will best address your personal goals.
Get the most out of your consultation. Come prepared with this comprehensive checklist to help you ask all the right questions.
What Happens During Facelift Surgery?
During a facelift, a facial plastic surgeon creates and hides fine incisions in the hairline and around the contours of the ear. The surgeon then carefully separates the skin from underlying fat and muscle, removes and contours fat from the neck and chin, tightens muscles, and removes excess skin. In some cases, liposuction may be performed and often a small incision may be made under the chin to tighten neck muscles.
What Is the Proper Age To Have a Facelift?
Am I too young? Too old? We hear these questions a lot, and the answer is that aging impacts people at different rates, depending on factors including genetics and diet. If you have drooping cheeks, a loose neck, or jowls, then a facelift may be a good option for you regardless of your age.
What Is the Facelift Recovery Period Like?
Many patients return to work within two weeks of having their facelift procedure. With that said, even after heading back to work, you'll want to hold off on exercise and other strenuous, unrestricted activities until one month after your surgery.
Bandages are often removed the day following a facelift, with sutures typically dissolving around the same time. You should wait to shower and wash your hair for 1-2 days after surgery. Your surgeon can provide you with specific aftercare instructions to ensure your recovery goes as smoothly as possible.
How Can I Expect My Face To Look Over Time?
Today's modern facelift techniques help preserve unique facial characteristics and add much-needed volume to achieve a youthful but natural look. Properly performed facelifts should not make you look like a different person—only like the best version of yourself, or perhaps what you looked like 10-15 years ago.
Of course, most patients experience some bruising and swelling immediately after the procedure, which can last for a few weeks. Once the healing process is complete, typically around 2-3 months after surgery, your face should appear toned, youthful, and refreshed.
How Long Does a Facelift Last?
A facelift doesn't completely stop the clock—but it does set it back by a decade or more. Although you will continue to age after getting your facelift, you'll always look 10-15 years younger than if you had not pursued the procedure. Adjusting your lifestyle to avoid certain things, such as smoking, unprotected sun exposure, and large changes in weight, will help you extend the results even further.
What Should I Look For In a Facial Plastic Surgeon?
You should look for a facial plastic surgeon specialist who is certified by the American Board of Facial Plastic and Reconstructive Surgery (ABFPRS), which requires them to meet and uphold rigorous standards.
Choose a specialist with significant experience performing facelifts to move forward with confidence in the results you'll achieve after recovery. Facial plastic surgeons who specialize in modern facelift techniques can carefully hide incisions and recontour the face in a very natural way. Be sure to review your surgeon's Before & After photos to get an idea of the results you might expect from facelift surgery.
The more informed you are about the facelift procedure, the more confident you'll be moving forward on your journey to becoming your best you. If you think a facelift is right for you, consider meeting with a facial plastic surgeon to learn more about the procedure, recovery, and results—so you can make the best decision for yourself and your future!

About the Author:
Ross A. Clevens, MD, FACS is a leading, double board-certified facial plastic surgeon, with more than 20 years of experience in his specialty area of the face, neck, eyes, and nose. Dr. Clevens is also a nationally recognized educator, author, lecturer, and innovator in facial plastic surgery. He is frequently recognized by former patients and colleagues for his meticulous attention to detail and innovative contributions to his field.