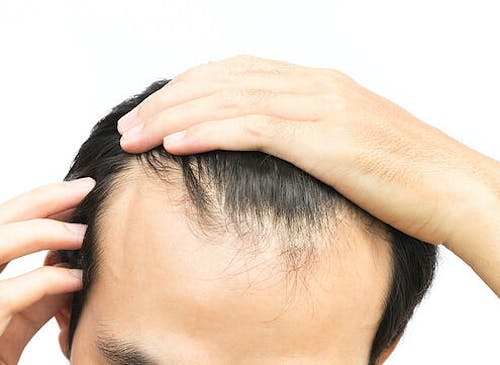 Do you struggle with a thinning or receding hairline that makes you feel self-conscious about your appearance? Does it sometimes feel like you're losing not only your hair but also part of your identity?
If so, you're far from alone; hair loss is a common struggle for men and women alike. In fact, it's estimated that hair loss affects 50 million men and 30 million women in the U.S. alone. If you're one of them, you've probably researched different hair restoration techniques, including our unique NeoGraft "MaxGraft" procedure and follicular unit extraction (FUE)—but there's a good chance you haven't heard about hairline lowering surgery and the excellent results it can provide for the right candidates.
Below we provide an overview of hairline lowering surgery, with information on everything from risks and recovery to lasting end results.
What Is Hairline Lowering Surgery?
Hairline lowering surgery, which is also referred to as forehead reduction surgery, is a surgical procedure that allows individuals to lower and reshape their hairline that has recessed because of hair loss. Hairline lowering surgery involves removing a small strip of skin next to the hairline, advancing the hairline and reducing the forehead and then attaching the remaining skin together to lower the hairline.
Can It Be Combined with NeoGraft "MaxGraft" Procedures?
NeoGraft "MaxGraft" is a minimally invasive procedure that may be combined with hairline lowering surgery to achieve ideal, natural-looking results. NeoGraft "MaxGraft" is a minimally invasive hair restoration procedure that requires no incisions and causes no scarring.
During the NeoGraft "MaxGraft" procedure, individual hair follicles are extracted and transplanted to other areas of the scalp one strand at a time. The treatment can be completely customized to meet each patient's unique goals for hair restoration, and grafts are intended to be permanent. A combination of hairline lowering surgery and our NeoGraft "MaxGraft" procedure might be the perfect way to restore your hair for years to come.
Are you a candidate for hair restoration? Take this simple quiz to find out!
Who Is a Good Candidate for Hairline Lowering Surgery?
Both men and women with naturally high hairlines or hairlines that have advanced with age are typically good candidates for hairline lowering surgery. A hair restoration specialist can help determine whether or not you're a good candidate for the procedure. If you're interested in combining hairline lowering surgery with NeoGraft "MaxGraft", Dr. Clevens is uniquely qualified as both a hair restoration expert and an experienced facial plastic surgeon, so he can assess and determine if one or both procedures are ideal in helping you reach your goals.
What Is Hairline Lowering Surgery Recovery Like?
Hairline lowering surgery recovery time is about five to seven days on average and most patients return to work in a week. Patients should not engage in strenuous physical activities or exercise for at least two weeks following the procedure. They are also instructed not to wash their hair for a few days after hairline lowering surgery to avoid potential complications and side effects.
What Are the Results of Hairline Lowering Surgery?
During hairline lowering surgery, the hairline is typically lowered about 5-6 cms, or about two inches. A facial plastic surgery specialist with hairline lowering expertise can help manage expectations based on your individual needs. Look at before and after photos for examples of the results you can expect from hairline lowering surgery.
There are numerous benefits to exploring hairline lowering surgery to improve a receding hairline and reduce forehead size. Schedule your consultation with our experienced specialist in facial cosmetic procedures to learn whether or not you're a good candidate for hairline lowering surgery.