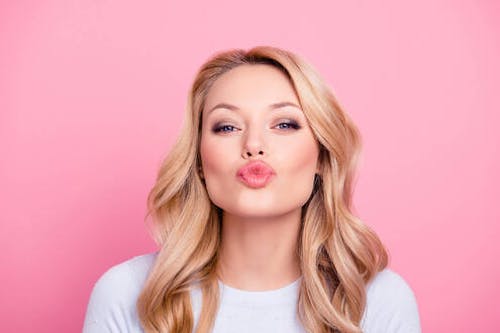 Many of our facial plastic surgery patients come to us seeking full, luscious lips that create a more vibrant, youthful look. Both surgical and nonsurgical treatments can plump and rejuvenate your lips (and really your entire mouth region) for a natural, younger-looking appearance.
Learn all about the lip lift procedure, including key benefits and important factors to consider when making your decision.
What Are the Benefits Of a Lip Lift?
A lip lift is a surgical procedure that creates the appearance of fuller, more youthful lips, or reverses signs of aging such as downturned corners of the mouth. As the lip ages, it's common to see characteristic changes over time.
For example, it's natural with age to see:
Shortening of the pink upper lip (or the vermillion)
Thickening of the white upper lip under the nose
Longer space between the nose and upper lips
Drooping, downturned corners of the mouth
Elongated, flattened philtral columns with less definition
Thinning and volume loss of the upper and lower lips
The good news is, a lip lift procedure can be tailored to meet your needs, with the ability to return thinning lips to their youthful shape and fullness, reduce lines and wrinkles, restore balance and symmetry, and reduce the angry, bitter expression that doesn't reflect who you are or how you feel inside.
Lip lifts are increasingly popular among women, in large part because the procedure is completely customizable to each unique person's needs and goals for their appearance. Some women may be more concerned with downturned corners of the mouth, whereas others more likely want to address volume loss.
What Are the Different Lip Lift Techniques?
The three most common lip lift techniques include the following:
Direct Lip Lift
A direct lip lift is best for patients who desire more voluptuous lips and want a lasting alternative to lip fillers. The degree of lift can be customized based on your personal preferences, and it can be achieved with a high degree of precision. It's optimal for those seeking a long-lasting solution to thinning lips.
Subnasal or Bullhorn Lip Lift
The subnasal or "bullhorn" lip lift is a technique that adds overall fullness to the lips for a more youthful show of teeth. Shortening the white upper lip helps to decrease the space between the nose and upper lip that lengthens with age, while also creating fullness of the central pink upper lip and much-desired tooth show.
Corner Of the Lip Lift
The corner of the lip lift is ideal for addressing the bitter, angry frown or downturned corners of the mouth that occur with aging. During the procedure, a facial plastic surgeon gently lifts the corners of the lip, creating a more youthful, pleasant appearance.
We can also perform an extended corner of the lip lift, to address the downturned corners of the mouth while also adding fullness to the upper lip. The extended corner of the lip lift is often combined with other facial rejuvenation techniques, such as blepharoplasty (or eyelid surgery), facelift, and laser skin resurfacing.
Should I Choose a Lip Lift or Lip Fillers?
If you're looking for a way to augment the appearance of your lips, the biggest decision is probably whether to pursue a lip lift or get injectable lip fillers. When evaluating your lip augmentation options, consider these factors:
Surgical vs. Nonsurgical
A surgical lip lift is a long-lasting procedure, whereas lip fillers offer a more temporary solution for patients who wish to avoid surgery or test out fillers before committing to a more lasting result.
Recovery and Downtime
As with any surgical cosmetic procedure, a lip lift requires a recovery period and downtime with activity restrictions from work and play. On the other hand, lip fillers can be completed quickly and easily on your lunch break.
Average Procedure Cost
A lip lift comes at a higher cost than lip fillers, although the cost of a lip lift varies depending on the type of lift lip you select, your facial plastic surgeon's training and experience, and the area where you live. At our Florida plastic surgery practice, a lip lift ranges from $3,000-$6,000, whereas most lip fillers cost upwards of $695. Of course, because lip fillers are temporary, you will need to have the treatment again every six to 12 months to maintain your result.
Find Your Solution For the Ideal Lips
There you have it: Either a surgical lip lift or injectable lip fillers can help you achieve a full smile with a youthful vibrancy that brightens up every room you enter. Tune into our on-demand lip lift webinar to learn more about the procedure and see before and after photos so you can decide whether it's a good fit for you.
We offer consultations for lip enhancement surgery at both our office locations in Melbourne, Florida and Merritt Island, Florida—conveniently located just an hour east of the Orlando and Central Florida area near the Space Coast beaches. We look forward to meeting you during your consultation and learning more about your goals!
Want to learn more about the different lip procedures designed to improve symmetry and restore a balanced, even smile? Watch our lip lift webinar.