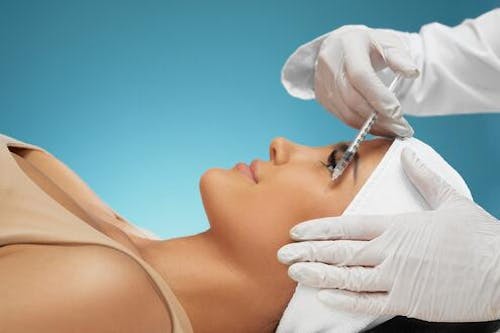 Our cheeks help achieve facial balance and harmony, creating soft shadows that add attractive contours and definition to the face. However, as we mature, our cheeks can naturally lose volume and sag, which often results in a hollow, sunken-in appearance that's missing its youthful plumpness.
Fortunately, both surgical and nonsurgical cheek augmentation procedures are available to fill out the cheeks, restoring volume and improving facial contours. Whether you've always longed for high, defined cheekbones and decided to take action, or you've noticed your cheeks beginning to sink in and lose prominence over time, cheek augmentation through facial implants or dermal fillers can make all the difference.
Let's compare cheek implants versus fillers to help you get a better sense of what each procedure offers in terms of the benefits, recovery, and results.
Cheek Implants Vs. Fillers: What Are the Key Differences?
Cheek augmentation is a popular procedure for facial rejuvenation for a few reasons. Some patients wish to enhance the appearance of their cheekbones due to their bone structure while other patients might want to restore lost volume and youthful facial contours. Both cheek implants and fillers work to address these concerns, but there are still many differences between them.
Cheek Implants
Cheek implants are a surgical implant made of solid, biocompatible materials that are used to increase the projection of your cheekbones and give you a younger or more proportional appearance. Similarly to other facial implants, such as those placed in the chin and jaw, cheek implants restore facial harmony, definition, and symmetry, enhancing natural contours and making the face look fuller and more youthful.
Cheek implants are typically made of silicone and can be adjusted and cut to size, to best fit each patient's individual needs and anatomy. Patients love modern cheek implants because they look very natural and offer several options in regards to size and shape. Cheek implants are generally placed in less than an hour, depending on whether any other treatments are performed in conjunction. During the procedure, incisions are typically made on the inside of the mouth so the scars are invisible.
Recovery from cheek implant surgery takes about a week for most patients, with some minor bruising and fullness immediately following the procedure. Final results appear once fullness completely subsides, typically around six to eight weeks after surgery. Although cheek implants are designed to last a lifetime, they are also easily removable, should your goals or preferences change down the road.
Injectable Fillers
Injectable fillers are a nonsurgical treatment that involves injecting biocompatible materials to add volume and restore youthful contours without surgery. Most facial fillers are made of hyaluronic acid, though some are made with other natural substances like fat. There are multiple filler options to consider for cheek augmentation, including the following:
Juvederm Voluma XC
Juvederm Voluma XC is the first facial filler approved by the U.S. Food and Drug Administration (FDA) for nonsurgical treatment of the cheeks. Voluma adds volume to the cheeks and mid-face, addressing the sunken-in look that can happen with age as collagen production slows. Voluma fillers work by gently lifting three areas of the cheek (the apex, apple, and hollows) to achieve a healthy, more youthful appearance.
Sculptra
Sculptra is an injectable filler that restores volume and corrects signs of facial fat loss. Made of poly-L-lactic acid (PLLA), a synthetic material that's both biocompatible and biodegradable, Sculptra is injected beneath the skin's surface to treat sunken cheeks, hollow eyes, indentations, and folds. Should you choose Sculptra fillers for cheek enhancement, the treated area will need to be massaged several times a day for several days following treatment.
C-Lift
The C-Lift is a nonsurgical liquid facelift created by our double board-certified facial plastic surgeon, Ross A. Clevens, MD, FACS, and performed in our offices by Dr. Clevens. Our C-Lift patients love that the treatment can be customized to each person's individual needs, allowing for restoration of youthful facial contours without surgery. The C-Lift is ideal for those who wish to add natural definition to the face, correcting mild sagging and lifting your cheeks to highlight your cheekbones and accentuate your facial features.
Fillers are a popular choice for patients seeking chin enhancement because they require no surgery, incisions, anesthesia, downtime, or recovery. Results are instantaneous and usually last up to two years following treatment. Plus, many of our cheek augmentation patients opt to have periodic maintenance treatments to maintain results.
Request a consultation to speak with our expert team
Choosing the Best Cheek Augmentation Procedure For You
When weighing your options to choose the best cheek augmentation procedure for you, keep the following considerations in mind:
Long-Lasting Versus Temporary Results
Consider the lifespan of your results: Are you looking for a fast-acting, temporary (but very effective) result, or would you prefer a more permanent option? Cheek implants are designed to last a lifetime, whereas fillers offer a temporary result and require maintenance treatments to keep up over time.
Number Of Treatments Necessary
Speaking of maintaining your results, consider the number of treatments you'll require. While both cheek implants and fillers can deliver nearly immediate results, fillers may require more than one treatment to achieve the initial results you'd like to see. Plus, fillers require maintenance treatments every year or two (depending on the filler you choose) to preserve those results.
Length Of Downtime and Recovery
Next, consider the downtime and recovery: Are you able to miss work and spend time at home recovering from surgery, or would you prefer to be in and out over your lunch break? Cheek implants typically require a week-long recovery period with activity restrictions, and full healing can take 3-6 weeks. On the other hand, fillers are highly effective, with no downtime or recovery period whatsoever.
Total Cost Of Implants Versus Fillers
Of course cost is an important consideration: How much are you willing to spend for cheek augmentation? Cheek implants come at a higher cost upfront, whereas fillers are a more affordable option to consider trying before surgery. That said, it's worth noting that fillers can become more expensive over time, should you choose to maintain your results indefinitely.
We've armed you with a lot of important information and considerations about cheek implants versus fillers, but only a board-certified facial plastic surgeon can make a treatment recommendation based on your personal needs, preferences, and aesthetic goals for your results. You can also discuss other options worth considering, such as facial fat transfer using your own body fat from areas like the hips, thighs, or tummy.
Looking for a natural-looking way to enhance your cheeks and restore a more youthful look? Schedule your consultation with Dr. Clevens to learn more about your options for cheek enhancement.