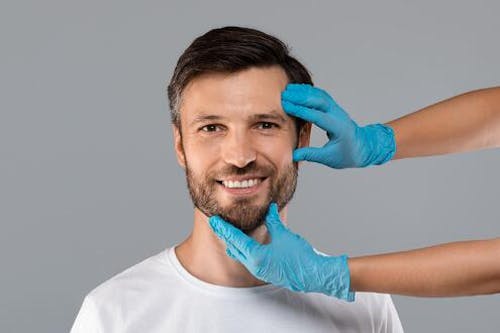 If you think facial plastic surgery is just for women, think again: Facial plastic surgery for men has been on the rise in recent years, with more and more men of all ages exploring procedures to help them look as good as they feel.
Today, men seek out facial plastic surgery for a myriad of reasons, from gaining a competitive advantage in the workplace to increasing their luck in the dating world. According to a study by plastic surgeons at Georgetown University Medical Center, men who opt to have facial plastic surgery see significant increases in perceptions of attractiveness, likability, social skills, and trustworthiness.
If you're a man looking to restore your personal and professional confidence with a more youthful appearance, there are several plastic surgery procedures available to you. Let's talk about the five most popular facial plastic surgery procedures for men.
1. Eyelid Rejuvenation
Aging around the eyes is one of the first signs of maturity, and it's a common appearance issue for men and women alike. Sun exposure, genetics, chronic allergies, excessive squinting, and even use of contact lenses all contribute to aging around the eyes. Eyelid surgery (blepharoplasty) is popular for men of all ages looking to improve their field of vision and reduce saggy eyelids, a tired or sad appearance, and lines and wrinkles.

Men who pursue eyelid surgery benefit from appearing more rested and youthful after healing is complete, which is ideal for those concerned about aging in the workplace. In fact, after having eyelid surgery, many patients report that they both look and feel more rested, as the procedure can improve both appearance and function of the eyes.
2. Facelift
With an increasing number of men looking for ways to achieve a rejuvenated appearance, it's not surprising to see many exploring the facelift procedure. Various facelift techniques are available and will impact your surgical outcome, and the best fit for you is dependent on your personal needs and goals.
A men's facelift turns back the clock by correcting visible signs of aging in several areas:
Lower face and neck
Appearance of the cheek and jowls
Contour of the chin and neckline
Deep creases and facial folds
Some fine lines and wrinkles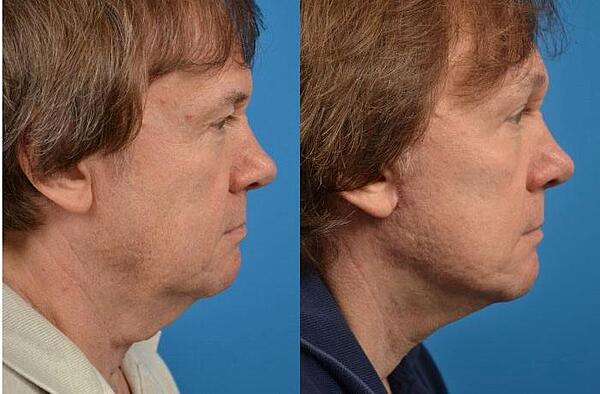 A facelift allows male patients to achieve a natural, youthful appearance that often leaves them looking 10-15 years younger. After the procedure, the facial skin appears smoother, firmer, and tighter, while the chin and jawline are more defined without looking operated upon or pulled—meaning results are natural and long-lasting.
3. Neck Lift
Turkey neck, muscle banding, and double chin are some of the common complaints we hear from men with age-related concerns. Fortunately, the neck lift procedure is available to restore a youthful, defined contour and appearance by:
Helping tighten neck muscles
Reducing muscle banding
Minimizing unwanted fatty tissue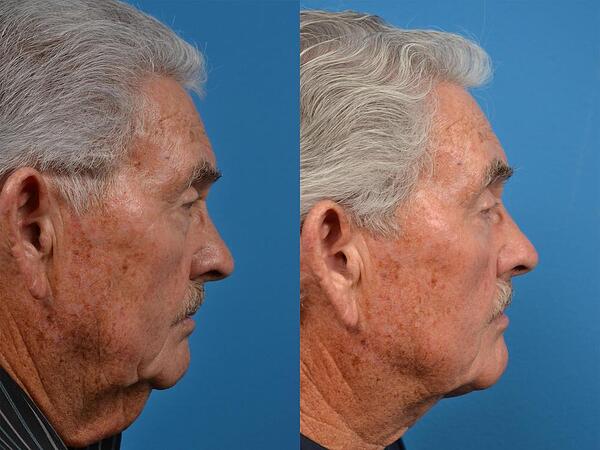 Ross A. Clevens, MD, FACS, a pioneer in facial plastic surgery, designed both the Laser-Assisted Weekend Neck Lift™ and Signature Profile Neck Lift™ to rejuvenate the neckline and address common signs of aging with minimal incisions and a fast recovery. If you're interested in a neck lift, Dr. Clevens and his team can discuss your desired results and help you determine the ideal solution for you during your plastic surgery consultation.
4. Rhinoplasty
Rhinoplasty, or a nose job, continues to be the most popular facial plastic surgery procedure for men, with hundreds of thousands seeking it out each year to improve breathing and function and/or their overall appearance. A nose job is able to change the shape, size, contour, and profile of your nose so it blends more naturally on your face.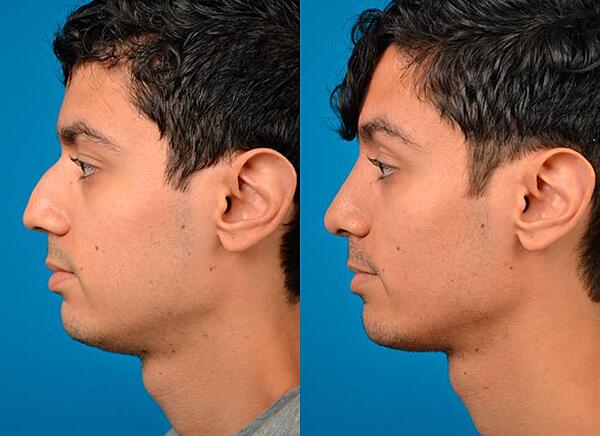 Functional and cosmetic rhinoplasty (or a combination of the two) can have a significant impact on a man's life, self-esteem, professional confidence, and appearance at any age. Plus, nose jobs not only have one of the greatest impacts on how a man looks, but also on both breathing and sinus function. Many functional rhinoplasty cases, which are often referred to as septorhinoplasty, are even deemed medically necessary.
5. Brow Lift
As we mature, heavy, sagging skin can droop down and overcrowd the eyelids. The last thing you want to deal with at the office are drooping brows and frown lines that make you look sad or angry. A brow lift accomplishes the following:
Tightens the forehead tissues to lift the brows
Corrects forehead lines
Minimizes frown lines
Removes excess fat and skin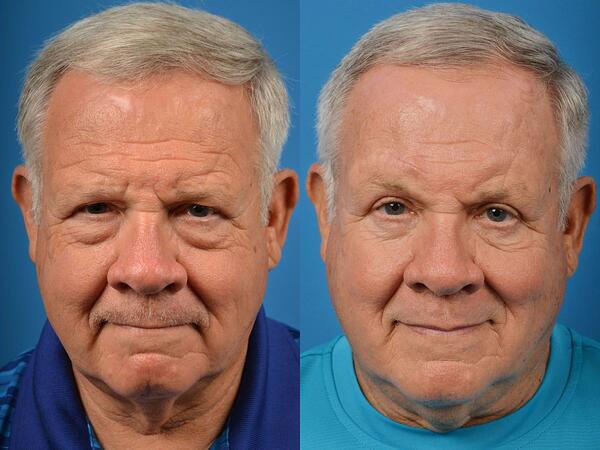 Like the different facelift and neck lift techniques, there are various brow lift techniques available that offer different results and vary in terms of recovery and invasiveness. A facial plastic surgeon can make a recommendation on the best option for creating a natural appearance that makes your entire face look and feel more refreshed.
Facial Plastic Surgery For Men: Choosing the Right Procedure For You
Even with a better idea of the most popular facial plastic surgery procedures for men, you're probably still trying to determine the best route for you. Which procedure (or combination of them) will help meet your goals and restore a youthful appearance?
If you're a man who's considering facial plastic surgery, and you're curious about various procedures—as well as their benefits, recovery, and results—the best way to move forward is:

Expert facial plastic surgeons possess the specialized education and artistry necessary to achieve the benefits you're looking for with a natural result and a rapid recovery—so you can reap all the rewards with nobody any the wiser about the reason why. Schedule your consultation with one of our specialist facial plastic surgeons in Merritt Island & Melbourne, FL to discuss your personal goals for your appearance and desired results.