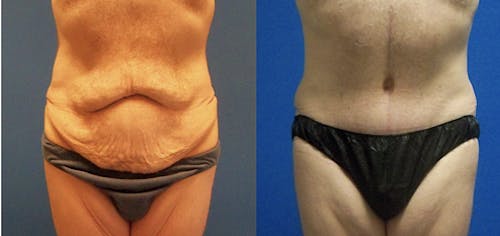 Whether through surgery or diet and exercise, losing a massive amount of weight is a very exciting time and a huge accomplishment. You may also find that even after planning your gastric bypass or other weight loss procedure, and putting in the effort required to lose a massive amount of weight, your journey is not yet complete. Many patients who have lost a great deal of weight find they're left with excess skin. This loose skin can make it difficult to exercise or wear certain types of clothing, and the skin folds can even become irritated or painful. Additionally, patients often say when they look in the mirror after losing weight, the loose skin on their body doesn't reflect how they feel inside as someone who is now more active and fit. That's why, following massive weight loss, many patients seek out a board certified plastic surgeon for advice on body contouring to remove excess skin and restore their appearance.
When considering plastic surgery after weight loss, most patients are curious about procedures such as abdominoplasty, liposuction, and belt lipectomy that can help to achieve a flat, more toned-looking tummy. They may also be a good candidate for an arm lift, or brachioplasty, to address excess skin in the upper arms -- sometimes called the "bat wings." Women might consider breast surgery, such as augmentation to restore lost volume or breast lift, also called mastopexy, to reshape sagging breasts and achieve a more youthful look. No matter the combination of procedures, body contouring after massive weight loss typically involves the consideration of several procedures, which can raise a number of questions for the patient. Oftentimes, patients take a phased approach, starting with abdominoplasty, and later having other procedures as well.
During your consultation for body contouring after massive weight loss, keep in mind your meeting with your doctor is the place to get all of your questions answered by an expert in plastic surgery and discuss which procedures are right for you. So your consultation is key.
Tip 1: Choose a Board Certified Plastic Surgery Specialist
First of all, it's important to do as much research as you can about all of the various procedures that can accomplish body contouring after massive weight loss. Your surgeon's credentials are of primary and utmost consideration due to the wide variation of procedures, and combination of procedures, that can be performed. Choosing someone who's board certified by the American Board of Plastic Surgery (ABPS) should be a top consideration.
The requirements to achieve this board certification are particularly rigorous and require many years of education, medical experience, and also observational experience in performing the procedures. For example, you would not necessarily want someone who has never performed an abdominoplasty to perform their very first one for you. You would much rather have a surgeon with many years of experience working under another surgeon doing abdominoplasty, and then after that preferably some fellowship experience, which is additional training after the residency in order to hone the surgeon's skills and experience.
Even beyond that, choosing a surgeon who specializes in the procedure(s) you desire is ideal, because a "specialist" in breast and body procedures will have completed many more surgeries of that type than a "generalist" plastic surgeon who works head to toe, and thus, have much more experience in their specialty area.
Tip 2: Prepare For Your Body Contouring Consultation
Of course, you'll want to think about all of your goals and what your priorities are for surgical body contouring after weight loss. Consider what area is most important to you to improve first, and then also take into account incisions, recovery considerations, and so forth.
For example, most patients who come in for body contouring after massive weight loss are first considering the midsection. This makes sense, because many patients used to have a very large abdomen and now have an empty overhanging pannus (excess tummy skin) which may be getting in the way of further weight loss efforts, especially exercise. This is very frustrating for people who have reached a plateau in their weight loss because they're having difficulty exercising. Therefore, it can be helpful to first have an abdominoplasty and excise the pannus so that you can continue in your journey with exercise efforts.
It's important to have realistic expectations, so viewing a variety of before-and-after photos is helpful. The more you view, the better, because none of those people will look exactly like you. This helps frame up realistic expectations for different body types, skin types, healing variabilities, and so forth.
Pertinent past medical history is very important. For example, if you have a history of diabetes but it is now under better control after your weight loss, that would be important to discuss with your surgeon. Have a list of your medical history, allergies, medications, and all concerns about any ongoing medical conditions. This will help you and your specialist prioritize and plan the safest combination of procedures for you to achieve your goals.
Prior to coming into our office, you will discuss your concerns and goals for the procedure with one of our patient care coordinators on the telephone. This will give you ample opportunity to review all pertinent considerations discussed above, such as allergies, medications, medical history, and anything else that might help the patient care coordinator and your surgeon ensure a procedure that will bring you the most satisfaction in a safe setting.
Tip 3: Know What To Expect During Your Body Contouring Consultation
Even before having your consultation for body contouring after massive weight loss, you should think ahead of time about your goals and priorities. Again, consider what is most important to you on the front end—is it your arms, breasts, or midsection? For most people it is the midsection because making this area smaller enables them to move around a lot more easily.
When you come in on the day of your consultation, you will first meet our office staff. They will greet you very warmly and further discuss your considerations, so that you can keep moving toward meeting your goals for your body contouring after massive weight loss. Bring your list of questions, concerns, thoughts, and aspirations with you and have it ready so everything can be addressed.
When you come in, the office staff initially will ask for more information about all of these things, including medical history. You'll meet with the patient care coordinator in person, and then you will, finally, also meet with your surgeon. During your consultation, you'll review all this information in the greatest detail. Now is also the time to ask all your questions and clarify everything, so you can make the most informed decision about how to move forward.
Your doctor will perform examinations of all the pertinent areas where you have concerns and also take clinical photos or possibly measurements. If you are particularly concerned about the breast area, they will take measurements of your chest.
It's essential to discuss your current situation and your life with your surgeon so they can plan around things like family and children, travel, work, and so forth. They'll then review recommendations with you, including procedures and particular combinations or perhaps stages of procedures. Body contouring after massive weight loss is often done in stages for the utmost safety and satisfactory results.
Any special considerations you have will also be discussed, so you can get your questions answered and be prepared for body contouring after massive weight loss. After your consultation time with your doctor is complete, you'll meet with your patient care coordinator one final time to review your quote, discuss finance options, schedule your surgery, and plan the technical aspects of the preoperative considerations for your procedure.
Tip 4: Prepare For Your Body Contouring Procedure
There's so much to consider regarding body contouring after massive weight loss that you may feel overloaded with information immediately after your consultation. This is the time to sit back and make a list of other questions that occur to you, and perhaps have a follow-up phone call with your patient care coordinator. You may also find it helpful to have another visit in our office and bring your significant other or caregiver with you. They can contribute to asking and answering questions and make sure that you get all the information you need in order to make a good decision.
It helps if you have looked at your schedule in detail ahead of time so you may have an idea of when you can schedule your surgical procedure for the first phase, or first stage, of your body contouring after massive weight loss. Have an idea of your ability to take time off from regular activities, such as childcare, work, or other personal responsibilities. It helps to know when you may be traveling and who can help you after your surgery with your day-to-day responsibilities.
Our top concern is safety, and therefore, a preoperative medical clearance is generally required within 30 days before your surgery, including an exam, labs, and electrocardiogram (EKG). If you're having a breast procedure, your surgeon may recommend an updated mammogram in addition to taking a detailed history of your personal and family breast history.
Within 30 days prior to surgery, you'll meet with our specialist's nurse in order to review all of your final questions and sign your consent forms. You'll discuss pre- and postoperative considerations and instructions as well. It's very helpful to bring along the person who will care for you during your recovery, so they can help you with the extensive information that you will receive that day and also make sure all their questions are answered. This will allow them to take care of you after your body contouring surgery and help you have the best recovery, and best result, possible.