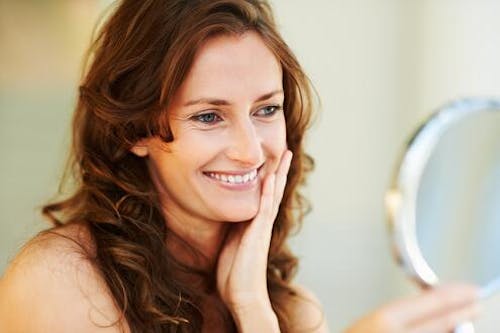 One of the concerns we hear from patients most often is, "How long will my facial plastic surgery last?" The truth is, the answer can vary based on numerous factors like your age, lifestyle, and the proactive steps you take to maintain your fabulous results.
Facial plastic surgery has the ability to significantly boost your confidence and take years off of your appearance. With that being said, it's still a significant investment, so you'll want to protect that investment and maximize your results so they last as long as possible.
Here are steps you can take to maintain (and even prolong) your facial plastic surgery results for years to come.
Choose an Expert Facial Plastic Surgeon
First and foremost, it's essential you select a board-certified facial plastic surgeon with expertise performing the procedure you're considering. Facial plastic surgery requires artistry and expertise, and well-trained surgeons know which techniques will optimize your outcome, as well as the longevity of your results.
That's why selecting a highly skilled, reputable facial plastic surgery specialist with a proven track record and extensive experience performing facial plastic surgery is perhaps the most beneficial step you can take to ensure your results are natural and long lasting.
Protect Your Skin From Sun Exposure
Sun exposure is one of the biggest contributors to aging skin. The sun's dangerous ultraviolet (UV) and infrared rays make us susceptible to skin cancer and painful sunburns, as well as premature signs of aging like fine lines, wrinkles, sagging skin, and brown spots.
You can enjoy your facial plastic surgery results for a much longer period of time by avoiding direct sun exposure and taking the proper precautions when outdoors. That means minimizing wrinkles, fine lines, and sun-related skin damage by:
Wearing a good sunblock made of micronized zinc oxide on a daily basis
Avoiding being outside during peak UV hours
Taking breaks in the shade
Wearing a wide-brimmed hat
Keeping in mind that certain medications, such as some antibiotics and birth control pills, can make your skin even more sensitive to the sun and its rays
Practice a Daily Skincare Regimen
Choosing the right surgeon and protecting your skin from the sun are both critical components for maintaining excellent aesthetic results after plastic surgery. However, taking good care of your skin on a regular basis can be just as impactful when it comes to preserving a healthy, youthful glow after your facial plastic surgery procedure.
You can do so by first committing to a daily skincare routine with cleansers, serums, toners, and moisturizers (and of course your SPF) to keep your skin healthy and happy—and hopefully to prolong your facial plastic surgery results for as long as possible! Look for medical-grade skincare products with a higher concentration of active ingredients to produce better results than over-the-counter products.
At Clevens Face and Body Specialists, many of our medical-grade skincare products (which are backed by years of clinical research and experience) include powerful active ingredients proven to restore restore youthful radiance, including:
Retinol
Glycolic acid
Hyaluronic acid
Alpha hydroxy acids
Antioxidants
A dedicated regimen with medical-grade skincare products will help you maintain a vibrant complexion well after you have your facial plastic surgery.
Make Healthy Lifestyle Choices
What we put into our bodies plays a significant role in how well (and how quickly) they show signs of aging—which is why it's important to maintain healthy habits, both inside and outside of your body. You'd be surprised how many daily lifestyle choices impact how your skin looks, feels, and ages over time.
To protect your facial plastic surgery investment, focus on making healthy lifestyle choices like:
Staying hydrated: Staying properly hydrated is essential, both during the healing stage and beyond. Drink at least eight glasses of water a day to keep your skin looking and feeling its best for the long haul.
Eating a healthy diet: A healthy, nutritious diet filled with fruits, vegetables, and whole grains can have a tremendous impact on your skin's appearance. In addition to eating healthy, try to avoid sugar, highly processed foods, and alcohol to maintain the aesthetic you love after facial plastic surgery
Quitting smoking: Nicotine negatively impacts your body's ability to heal itself, which can prolong recovery time and lead to unwelcome complications that may prevent long-term results. In fact, many plastic surgeons even advise patients to stop smoking before and after their procedure as a precaution.
Maintaining daily routines: Regular exercise, stress management, and a healthy sleep routine can also contribute to optimal healing and lasting results.
Explore Nonsurgical Cosmetic Treatments
Along with the tips outlined above, after some time, you may consider exploring nonsurgical facial cosmetic treatments to maintain and optimize your results. Some of the most common maintenance treatments for preserving cosmetic results include:
Fillers and Injectables
Dermal fillers and other injectables like Botox, Juvederm, Radiesse, and Restylane can help fill lines, wrinkles, and creases that form after having facial plastic surgery. Fillers and injectables offer a safe, effective way to maintain your results without the need for a repeat surgery or a second recovery period.
Liquid Facelift
A liquid facelift (or what we call the "C-Lift") is an excellent option for tightening sagging skin and maintaining the youthfulness and elasticity achieved with your facial plastic surgery. The C-Lift allows you to restore youthful facial contours without another surgery, and it can be completely customized to meet your unique needs.
Facials and Peels
Facials and chemical peels performed by licensed medical aestheticians (and under the supervision of a facial plastic surgeon) can go a long way in helping you maintain a youthful, refreshed complexion after surgery. Similar to the products you use at home, medical-grade skincare solutions used during these procedures, with a higher concentration of active ingredients, will allow you to achieve optimal results.
Laser Skin Resurfacing
Many of our patients opt to have laser skin resurfacing to enhance and prolong their facial plastic surgery results. Laser skin resurfacing restores a youthful look by improving your skin quality and texture to reduce the appearance of imperfections.
InMode FaceTite Treatment
A number of patients will have InMode FaceTite, a minimally invasive face contouring procedure, about a decade or so after a facelift as a touch-up treatment so they can continue to enjoy their aesthetic result for an even longer period of time!
Facial plastic surgery is an investment in yourself and in your future, and it only makes sense to enjoy your aesthetic results for as long as possible. With the right facial plastic surgeon and the right skincare measures afterward, you can maintain and make the most of your cosmetic results—so you can protect your investment and enjoy results you love for years to come!