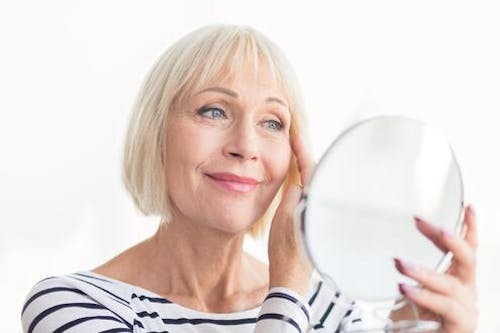 Facelifts have been the gold standard in facial rejuvenation for many years. With well-performed facelifts helping people look up to 10-15 years younger, it's no surprise they remain one of the most popular plastic surgery procedures for both men and women alike. In fact, 123,685 facelifts were performed in 2019 alone.
A facelift, also known as a rhytidectomy, significantly reduces visible signs of aging in the face, correcting deep wrinkles, folds, jowls, and laxity to restore a firmer, tighter, more youthful appearance. If you're like most people considering the procedure, you're probably wondering, "How do you know if you need a facelift, and do I need one?"
Here are some of the key factors to consider when making your decision.
Chronological Age
When contemplating whether or not to have a facelift, age is probably the first factor that comes to mind. Aging impacts people in different ways at different rates, depending on genetics, diet, skin type, ethnicity, and other factors. Although the majority of facelift procedures (66 percent) are performed on people 55 and older, many in their 40s and early 50s have facelifts as well (32 percent).
Age is truly just a number, and whether a facelift makes sense for you is much more dependent on your individual signs of aging. For example, if you're in your 40s with deep creases and loose, sagging skin around the lower half of your face and neck, then a facelift may be a good option regardless of your age. Likewise, patients often ask, "Am I too old for a facelift?" At our practice, our facial plastic surgeons have performed facelifts on patients in their 70s and 80s. When determining whether someone is a good candidate for a facelift, the more important question to ask is, "Are you in good overall health and free from health problems?" rather than basing the decision on your age.
Recovery Time
In addition to your age, consider whether the timing is right for you to have a facelift. Will you have ample downtime to recover? Having an adequate amount of downtime for healing and recovery is essential for achieving optimal results, so it's important to consider the timing when making your decision. In the COVID-19 era, countless people are recognizing that downtime to recover from plastic surgery is an unexpected benefit of working from home.
Signs Of Aging
Evaluate the signs of aging you're experiencing. Are you noticing sagging, wrinkled skin? Facial lines and deep folds forming? Neck laxity or jowls? A facelift addresses these common problem areas by accomplishing the following:
Removing loose and excess skin
Reducing deep creases and wrinkles
Tightening sagging corners of the mouth
Improving the profile, jaw, and neckline
Lifting and minimizing jowls and double chin
How advanced your signs of aging are, and how they impact your self esteem, can also be a determining factor when considering a facelift. For less advanced signs of facial aging, some patients explore nonsurgical cosmetic treatments like Botox and fillers to improve their appearance without surgery.
Get the most out of your consultation. Come prepared with this comprehensive checklist to help you ask all the right questions.
Desired Results
There are various treatment options available, and the best fit for you is dependent upon your desired outcome. Some people prefer to explore minimally invasive procedures that achieve similar results first. For example, the C-Lift, a nonsurgical liquid facelift exclusively available at Clevens Face and Body Specialists, is an excellent option for someone who is not yet ready for surgery.
A neck lift is another minimally invasive procedure that can achieve similar results to a facelift. In fact, it's sometimes referred to as a "lower facelift" because it focuses on improving the neck and chin but doesn't involve lifting the cheeks or tightening jowls. At our plastic surgery group, we offer the Laser-Assisted Weekend Neck Lift™ and the Signature Profile Neck Lift™, both of which can restore a youthful profile and recontour the neck and jawline.
Before you make your decision, check out our webinar to learn more about the difference between facelifts and neck lifts.
However, if you'd prefer a solution that goes beyond the neck region, it may be a good time to pursue a facelift to address areas of concern and achieve your desired outcome. While there are various facelift techniques, the deep plane facelift is the most sophisticated procedure and achieves the most natural, long-lasting results.
There are also many benefits to having more than one procedure at the same time to achieve full facial rejuvenation. Combining facial procedures allows you to tackle each of your concerns at once, with only one recovery period. Plus, it's important to remember that a facelift only addresses the lower two-thirds of the face, so many people combine the procedure with treatments that focus on improving the upper half of the face.
Some of the facial cosmetic procedures that can be combined with a facelift for optimal, natural-looking results include:
Blepharoplasty (eyelid surgery)
Laser skin resurfacing
Brow lift
Lip lift
Rhinoplasty
Facial implants
Who's a Good Candidate For a Facelift?
So, who exactly is a good candidate for a facelift? The ideal facelift candidate has visible aging in the face, such as wrinkles, deep creases, jowls, sagging skin, and neck laxity. To be considered a good candidate, you should also be a non-smoker in good overall health, with realistic expectations for your facelift results.
Remember, although the majority of facelift patients are in their 50s-70s, there's no right or wrong age if you're experiencing advanced signs of aging.
Hear from one of our facelift patients on why she opted to have the procedure done when she did:
"I am 60 years old, feel like I'm 30, and look like I'm 70 ... it was time. I am now seven months post-facelift by Dr. Clevens in Melbourne, Florida. I rate the surgery 100% worth it. Every result that I wanted from this surgery, I got it. The facelift was the perfect surgery for me because I had multiple target areas that I wanted corrected and most of them dealt with saggy, flat skin. Now that that excess skin around my eyes, face, and neck is gone I feel like my true self again. I would go through the surgery and recovery process a hundred times over again for these results. Truly." –RealSelf Review
Choosing a Specialist In Facial Plastic Surgery
The best way to determine if you're a good facelift candidate is to meet with a surgeon who specializes in facial plastic surgery procedures. The specialist advantage is real. Look for a facial plastic surgeon with a certification by the American Board of Facial Plastic and Reconstructive Surgery (ABFPRS), which requires them to meet and uphold rigorous standards.
A specialist with extensive experience performing facelifts will evaluate your skin and facial structure, help you understand what results you can expect from the procedure,, and address your concerns to help you make an informed decision. Schedule your consultation with one of our facial plastic surgery specialists to explore your options and determine the best one to help you look and feel like your very best self.
Get the most out of your consultation. Come prepared with this comprehensive checklist to help you ask all the right questions.