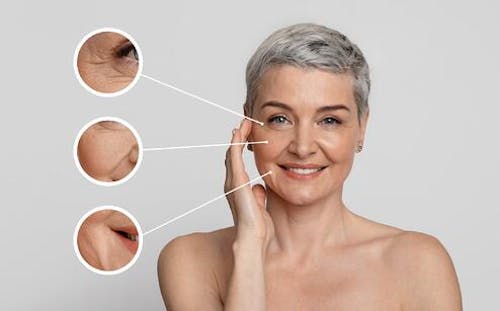 Wanting to look and feel our best at every age is universal. Everyone wants to age gracefully and maintain a youthful look for as long as possible, whether they're in their fun-filled forties, fab fifties—or even before and beyond those decades.
Although it's normal to experience fat and volume loss, bone density loss (leading to flat cheeks and hollow eyes), skin laxity, and diminished collagen as we age, there are several surgical and nonsurgical ways to reverse signs of aging and rejuvenate your face for a younger, more refreshed look.
No matter which problem areas on your face you'd like to improve, there are surgical and nonsurgical cosmetic procedures to address them. Learn all about nine different facial procedures that reverse the signs of aging to help you maintain a youthful appearance throughout each stage of your life.
Surgical Facial Procedures
1. Facelift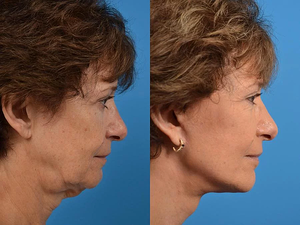 Have you started noticing facial lines and wrinkles forming? What about sagging skin on your neck or deep folds along your nose-cheek grove? If so, a facelift may be the perfect solution to help you achieve a tighter, firmer, more youthful appearance.
A facelift, also known as a rhytidectomy, is the gold standard in facial rejuvenation and has been for some time. The procedure, which can leave you looking 10-15 years younger, addresses three main areas on the lower two-thirds of the face and neck to accomplish the following:
Reduce deep creases and wrinkles
Remove loose and excess skin
Tighten the neck and jowls
Improve the profile and jawline
Smooth the nasolabial folds
Plus, many of our patients love having the ability to customize their facelift. It's the ideal approach and technique for their unique needs and goals, when it comes to achieving their desired final look.
2. Eyelid Surgery

Aging around the eyes is one of the earliest signs of maturity, and it is a common appearance concern for many people. Saggy eyelids, a sad or tired look, and lines and wrinkles around the eyes can be caused by a number of factors, including:
Sun exposure
Genetics
Chronic allergies
Use of contact lenses
Eyelid surgery, or blepharoplasty, is a highly effective facial cosmetic procedure designed to reverse signs of aging around your eyes and restore a rested, youthful appearance. Blepharoplasty also has the added benefit of improving the function of your eyes, because sagging eyelids can impede your field of vision.
3. Neck Lift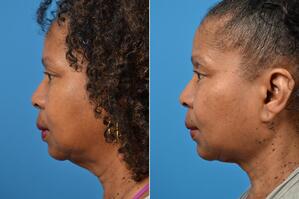 Turkey neck, muscle banding, and double chin? No thank you! These are some of the common complaints we hear from patients with age-related concerns. The good news is, the neck lift procedure is available to restore a youthful, defined contour and look. At our practice, we exclusively offer the Laser-Assisted Weekend Neck Lift™ and Signature Profile Neck Lift™ to reduce common signs of aging in the neck with minimal incisions and a faster recovery period.
Both of our neck lift procedures help to minimize common neck issues by tightening the muscles, reducing visible muscle banding, and minimizing unwanted fatty tissue to enhance your neck and jawline. The result is a smoother, firmer look and a youthful, contoured profile that will take years off your appearance!
4. Brow Lift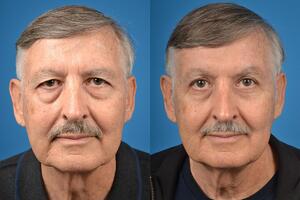 Drooping brows that make you look angry, tired, or sad are natural signs of aging. However, they can all be a thing of the past after seeking out a brow lift procedure.
Brow lifts correct forehead lines, minimize frown lines between your eyebrows, tighten the forehead muscles, and make your entire face look and feel refreshed. Brow lifts are customizable based on your specific needs and the natural shape of your eyebrows.
5. Lip Lift

Over time, our lips lose fullness and the plump, youthful look we're most familiar with early in life. It's also common to experience downturned corners of the mouth, which may create an angry or bitter appearance. Fortunately, a lip lift procedure can restore youthful fullness, improve wrinkles and lines, and even increase the visibility of your upper teeth for a balanced, radiant smile.
Nonsurgical Facial Procedures
6. Liquid Facelift (C-Lift)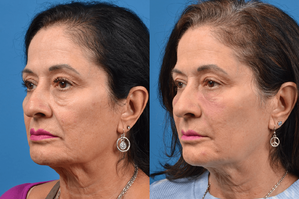 The C-Lift is our nonsurgical facelift, designed to reverse signs of aging without the need for incisions, recovery, or downtime. The procedure, which involves using a series of injectables, accomplishes the following:
Lifts your cheekbones
Smooths lines and wrinkles
Brightens and eliminates dark hollows in the under-eye area
Contours your upper neck
Adds dimension to your chin and jawline.
It's also completely custom-tailored to meet your specific needs and help you achieve optimal, natural-looking results you love.
7. Laser Skin Resurfacing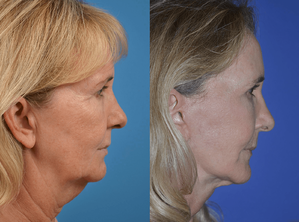 Wrinkles, brown spots, uneven skin texture, and other imperfections are all normal signs of aging. Many of our patients explore laser skin resurfacing to address these areas of concern and restore a youthful appearance without surgery.
Laser skin resurfacing removes fine to deep lines and wrinkles, brown spots, scars, precancerous skin, and other common concerns related to the quality and texture of your skin. It can also effectively tighten loose skin and correct uneven texture. Some patients choose to combine laser skin resurfacing with other facial plastic surgery procedures for a more complete facial rejuvenation.
8. Fillers and Injectables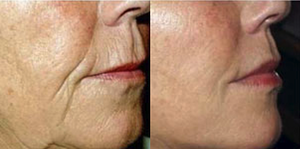 If you have facial lines and wrinkles that you would like to reverse, fillers and injectables are another great nonsurgical solution. From Botox and Restylane to Radiesse and Sculptra, there are several options available to erase lines and wrinkles on different areas of the face. If you're interested in fillers or injectables, your facial plastic surgeon can work with you to determine the best ones to meet your needs.
9. Facials and Peels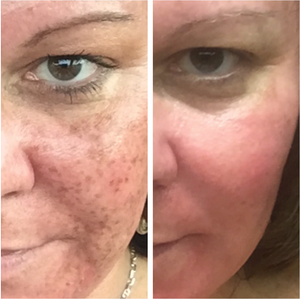 Facials and chemical peels are nonsurgical cosmetic treatments that treat damaged layers of skin, stimulate new collagen growth, and improve the skin's overall tone and texture. At our plastic surgery group, we offer a number of medical-grade skin care treatments to reverse signs of aging and restore your youthful glow.
Which Facial Procedure Is the Best Fit For You?
Determining which facial procedure is the best fit for you depends on your desired results, areas of concern, and preferences regarding cost and recovery.
Take Into Account Cost Considerations
Many different facial procedures can be done at the same time as a cost-effective way to achieve an optimal outcome with a single recovery period. For example, many procedures such as blepharoplasty (eyelid surgery), facelift, brow lift, laser skin resurfacing, and neck lift can be combined to maximize aesthetic results with full facial rejuvenation.
Choose a Specialist Facial Plastic Surgeon
Specialist facial plastic surgeons like our own Ross A. Clevens, MD, FACS possess the intensive training and extensive experience necessary to make recommendations on which procedures will best address your needs to reverse signs of aging. The specialist advantage is significant. Seeing a board-certified specialist in the cosmetic field that interests you will put you in good hands and help you achieve and maintain lasting results.
The same logic applies to nonsurgical procedures. You should still choose a facial plastic surgeon, even if you're considering having a nonsurgical treatment such as a liquid facelift or laser skin resurfacing. On the other hand, if you decide to go to a medi-spa rather than seeing a facial plastic surgeon, you won't learn about all the options available to you. Medi-spas typically have limited offerings and may push you to pursue a certain procedure, even if it is not the best solution to help you achieve your goals.
Schedule Your Consultation
If you're trying to figure out which facial procedures are ideal for meeting your needs and achieving the aesthetic results you're looking for, the best next step is to schedule your consultation with one of our board-certified facial plastic surgeons. From there, we'll evaluate your signs of aging, listen to your goals for your appearance, and make an expert recommendation on which procedure to pursue for an outcome that you'll love.